Pear Cut Citrine Swirled Slide Pendant in 10k Yellow Gold
Product Code: 20060195758
Complete The Look!
with this matching item
Combo Deal!
Buy both and save
$207.40
Instantly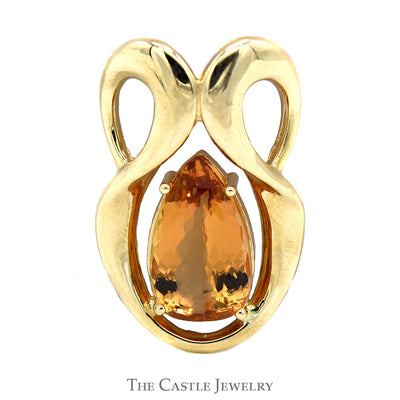 +
Only
$1,037.00 $829.60
APPLY COUPON
Fast FREE Shipping!
Estimated delivery date if ordered now:
THIS ITEM IS LOCATED AT OUR
210 W New Circle Road Location in Lexington KY
SEE IT IN STORE
ABOUT THIS ITEM
Indulge in the radiant allure of our Pear Cut Citrine Swirled Slide Pendant, delicately crafted in the luminous warmth of 10k Yellow Gold. This enchanting pendant captures the sun-kissed hues of a crisp autumn afternoon, manifesting themselves in a resplendent pear-cut citrine. This exquisite gemstone is nestled within a whirl of golden swirls, creating a mesmerizing dance of light and shadow. The pendant slides with graceful fluidity, its movement reflecting the soft glimmer of the citrine, imparting a mystic charm to your ensemble. Perfect for the discerning individual who appreciates the delicate interplay of luxury and elegance, this pendant is more than just a piece of jewelry. It's a statement, a celebration of your unique style and refined taste. Dare to dazzle with this stunning piece of artistry, certain to evoke admiration and leave an unforgettable impression.
Main Gemstone Details
Gemstone: Citrine
Shape: Pear
Color: Orange
Design
Pear Cut Citrine Solitaire in Swirled Slide Pendant Design
Specifications
Weight: 7.8 Grams
Metal Type: 10K Yellow Gold
Condition: Pre-Owned
We Accept
See All Deals
See All Deals