Emerald Cut Blue Topaz Ring with Blue Topaz and Diamond Cluster Accents in 14k White Gold
Product Code: 20058264391
Complete The Look!
with this matching item
Combo Deal!
Buy both and save
$318.60
Instantly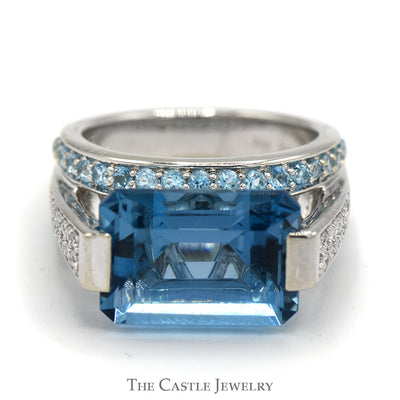 +
Only
$1,593.00 $1,274.40
APPLY COUPON
Fast FREE Shipping!
Estimated delivery date if ordered now:
THIS ITEM IS LOCATED AT OUR
210 W New Circle Road Location in Lexington KY
SEE IT IN STORE
ABOUT THIS ITEM
Experience the epitome of elegance and sophistication with our Emerald Cut Blue Topaz Ring. Lovingly crafted in 14k white gold, this exceptional piece of jewelry exudes a timeless charm that is sure to captivate and enchant. At the heart of the ring lies a stunningly clear, emerald-cut blue topaz, radiating an ethereal hue reminiscent of the deepest oceans. Surrounding this magnificent gemstone, a constellation of smaller blue topaz stones and twinkling diamonds cluster, each one meticulously set to create a dazzling spectacle of light and color. The shimmering diamonds, renowned for their enduring allure, add a touch of classic luxury to the piece. The band, forged from white gold, provides the perfect cool, sleek contrast to the warm, rich colors of the topaz. This exquisite ring is more than a piece of jewelry - it's a statement of refined taste and timeless elegance. This Emerald Cut Blue Topaz Ring with Blue Topaz and Diamond Cluster Accents in 14k White Gold is simply a must-have addition to any discerning jewelry collection.
Main Gemstone Details
Gemstone: Topaz
Shape: Emerald
Color: Blue
Additional Stone Details
Accent Stones: Diamond & Topaz
Accent Stone Shape: Round
Accent Stone Color: White & Blue
Total Diamond Carat Weight: 0.25cttw
Design
Emerald Cut Blue Topaz Center Stone. Row of Blue Topaz Stones Above and Below
Diamond Cluster Accented Sides
Ring Size: 6.25
Specifications
Weight: 9.4 Grams
Metal Type: 14K White Gold
Condition: Pre-Owned
We Accept
See All Deals
See All Deals