Cushion Fantasy Cut Mystic Topaz Ring with Ornate Detail in 14k White Gold
Product Code: 20061148233
Complete The Look!
with this matching item
Combo Deal!
Buy both and save
$283.40
Instantly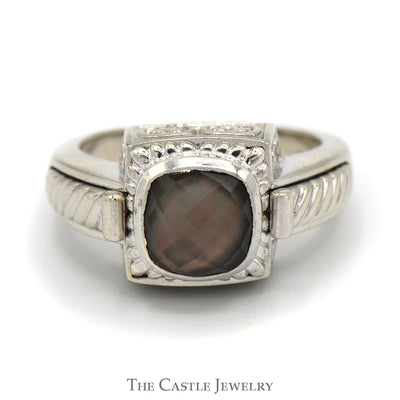 +
Only
$1,417.00 $1,133.60
APPLY COUPON
Fast FREE Shipping!
Estimated delivery date if ordered now:
THIS ITEM IS LOCATED AT OUR
210 W New Circle Road Location in Lexington KY
SEE IT IN STORE
ABOUT THIS ITEM
Step into the realm of enchantment with our Cushion Fantasy Cut Mystic Topaz Ring, beautifully crafted in 14k white gold. This stunning piece exhibits a whimsical allure that is sure to captivate onlookers. The mesmerizing centerpiece, a mystic topaz, is cut in the desirable cushion fantasy style, a cut that maximizes the stone's ability to refract light, thus producing a dazzling spectacle of colors. This gemstone, with its kaleidoscopic display, is a true testament to nature's artistry, and is securely nestled in an impeccably crafted ornate setting. The band, forged from 14k white gold, presents a timeless elegance that complements the opulent topaz. The intricate detailing on the ring adds a touch of vintage charm, making it an irresistible addition to your collection. This ring isn't just a piece of jewelry; it's a celebration of individuality, sophistication, and beauty. The Cushion Fantasy Cut Mystic Topaz Ring with Ornate Detail in 14k White Gold is the perfect embodiment of luxury and elegance, a treasure you'll cherish forever.
Main Gemstone Details
Gemstone: Mystic Topaz
Shape: Fantasy Cushion
Color: Brown/Gray
Design
Fantasy Cushion Cut Mystic Topaz Ring with Ridged Sides and Filigree Scroll Setting
Ring Size: 8.25
Specifications
Weight: 9.6 Grams
Metal Type: 14K White Gold
Condition: Pre-Owned
We Accept
See All Deals
See All Deals