1/4cttw Neil Lane Designer Double Diamond Band in 14k White Gold Beaded Designed Mounting
Product Code: 20057261057
Complete The Look!
with this matching item
Combo Deal!
Buy both and save
$318.60
Instantly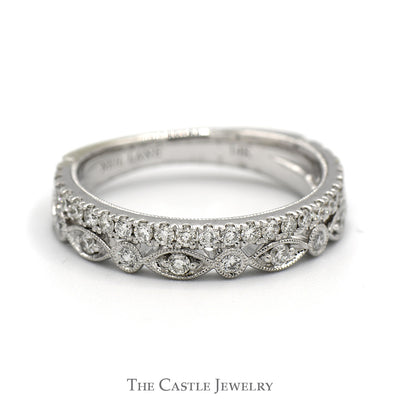 +
Only
$1,593.00 $1,274.40
APPLY COUPON
Fast FREE Shipping!
Estimated delivery date if ordered now:
THIS ITEM IS LOCATED AT OUR
210 W New Circle Road Location in Lexington KY
SEE IT IN STORE
ABOUT THIS ITEM
Exemplifying luxury and intricate craftsmanship, the Neil Lane Designer Double Diamond Band is a testament to the designer's reputation for creating romantic, timeless pieces. This exquisite band sparkles with two rows of scintillating diamonds set within a beautifully beaded 14k white gold mounting, evocative of Hollywood's golden era glamour. The beaded design adds a delicate, vintage-inspired texture to the mounting, enhancing the brilliance of the diamonds with a play of light and shadow. This ring exudes sophistication and elegance, making it the perfect choice for those who appreciate fine detail and iconic styling. Whether it's to commemorate an anniversary, to celebrate a special occasion, or simply to add a touch of opulence to one's collection, this double diamond band is more than a piece of jewelry—it's a work of art. With Neil Lane's signature aesthetic, this ring symbolizes enduring beauty and an unspoken promise of everlasting luxury. Embrace the enchantment of Neil Lane and let this double diamond band be the crowning jewel of your treasured moments.
Main Diamond Details
Shape: Round
Additional Stone Details
Total Diamond Carat Weight: 0.25cttw
Design
Neil Lane Designer Ring. Double Row of Diamonds Design with Beaded Details
Ring Size: 6.75
Specifications
Weight: 4.1 Grams
Metal Type: 14K White Gold
Condition: Pre-Owned
We Accept
See All Deals
See All Deals