How to Pick the Perfect Engagement Ring
Mon, Oct 31, 2022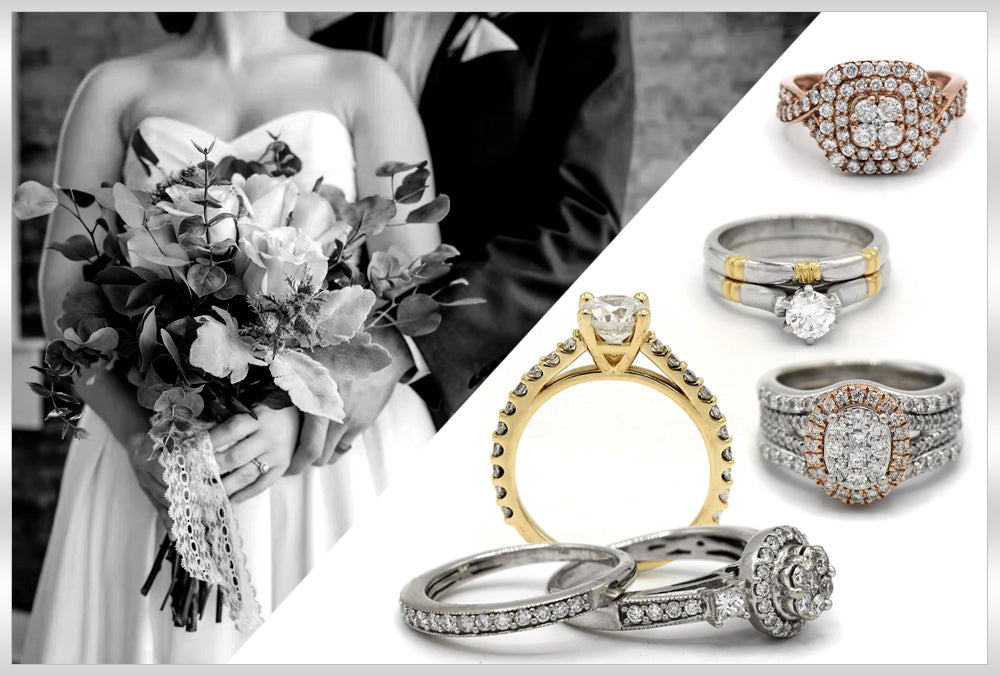 An engagement ring is considered by most a symbol of your love. It is one of the most important pieces of jewelry you will ever purchase. It is a ring that you will wear forever, and it should be perfect. How do you pick the perfect engagement ring? We are going to take a look at a few of the most important factors and by the end you will know how to get started on your search for the perfect engagement ring for your fiancé!
Solitaire or Unique? Your fiancés' personality
One of the first things to think about when choosing an engagement ring is the style. Do you want a
solitaire diamond
, or a more unique ring with
multiple stones
? This decision often comes down to your fiancé's personality. If they are more traditional, a solitaire diamond may be the way to go. If they are more unique and outgoing, a ring with multiple stones, an unusual setting or even a
vintage style engagement ring
may be better suited.
Engagement rings come in an infinite number of unique styles and designs. It can be tricky to find your fiancés' taste without tipping her off. We recommend enlisting a trusted friend to bring up the subject and maybe shop through styles together. That way, her friend can gather that information for you and relay it safely without raising suspicion.
White Gold, Yellow Gold or Platinum?
Another important consideration when choosing an engagement ring is the metal type. The three most popular options are white gold, yellow gold and platinum. Each has its own benefits and drawbacks that should be considered before making a purchase.
White gold
is probably the most popular metal type for engagement rings mainly due to how well it pairs with beautiful bright white diamonds however there are a few drawbacks, such as fading. All white gold rings contain some amount of yellow gold depending on their particular alloy mix. Thus the white can fade over time revealing a yellow undertone. White gold rings typically need to be re dipped in rhodium every 2-3 years.
Platinum
is a great alternative to white gold and does not share this same problem but can come with a heftier price tag!
Yellow gold
is also a very popular option and is a classic choice for a diamond engagement ring.
You will also want to factor in gold purity when purchasing an engagement ring. Generally the higher the purity the more rich the color will look. The lower the purity the sturdier the ring actually is. So if your fiancé works with their hands often or could be potentially hard on a ring in everyday life, a 10k white or yellow gold ring may be more suitable to help protect against damages, but if this is not a concern a 14k or 18k ring will have a stronger gold look to it.
Sneaky ways to get her ring size
One challenge you may face when shopping for an engagement ring is getting your fiancé's correct ring size without them knowing. There are a few sneaky ways to do this, such as borrowing one of their rings and having it sized at a jeweler, or secretly measuring their finger while they sleep!
It can be very risky but with the right planning can be accomplished. Finding a ring she normally wears on her ring finger to bring in to check the size is the best case scenario. If you do not have access to another ring to reference a size for, we actually do not recommend using an online ring sizing chart or print out as printer settings can vary and jewelers sometimes work with slightly different sizes. Instead, it might be best to hold off on having a ring sized until after the proposal. That way you do not risk spoiling the surprise and can safely get the size once the ring is revealed. One of the many great perks of shopping with The Castle Jewelry online is that we offer a free ring sizing for any rings over $300 (certain restrictions apply, reach out with your preferred ring for details) and you can redeem that after your proposal plans.
Budget
Another important factor in choosing an engagement ring is budget. Engagement rings can range in price from a few hundred dollars to tens of thousands of dollars depending on the quality of the diamond and other factors such as metal type and setting style. It's important to set a budget before beginning your search so that you don't fall in love with a ring that's out of your price range!
There are many cultural ideas about budget, such as you should save up 3 months salary to spend on a ring but many of these "rules" are antiquated and no longer apply. It really comes down to finding the right ring for the right price.
Shop The Castle Jewelry to find the perfect engagement ring
If you're looking for the perfect engagement ring, look no further than The Castle Jewelry! We have a wide variety of rings to suit any budget and style preference! Shop some of the great deals below and see all of our
engagement rings here!