How To Clean Gold Chains at Home
Wed, Oct 19, 2022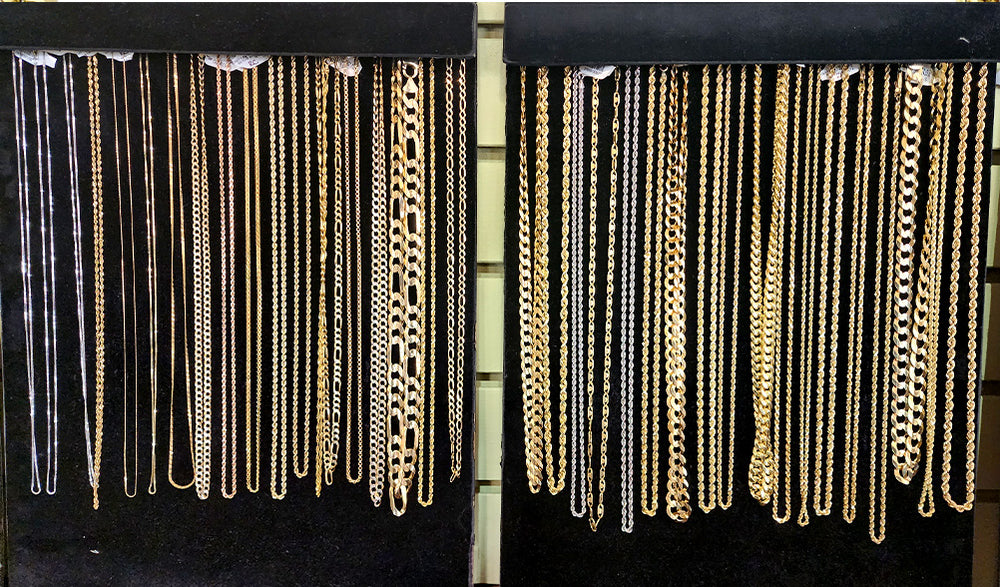 It's a jewelry lover's worst nightmare. One second, your gold chain is shining as bright as the sun, and the next, it's fallen into mud, or perhaps you ate your food a little eagerly and got some sauce all over it.
No worries! Cleaning gold jewelry is easier than you would think, and it does not take long for you to restore that gold chain to its original sheen. Even if you didn't drop your gold chains in something gross, cleaning them regularly is ideal for them to maintain their sheen. So let's look at how you can clean your gold-plated jewelry.
DIY Tips To Clean Gold Chain At Home
You can clean gold jewelry at home using household items. Here's how.
Baking Soda And Dish Soap
Buy some mild dish soap and some ordinary baking soda. Fill a bowl with warm water, add a tablespoon of baking soda, and then a few droplets of soap. Put your gold-plated jewelry in the bowl and then soak. The dish soap and baking soda work well to break apart any stains on your gold chains.
Alcohol
If you have some rubbing alcohol, it can work well to clean your gold jewelry. However, you should ensure that your gold-plated jewelry is made from premium materials. Cheaper gold plating can cause the chain to break down. If you're worried, you can also purchase a solution with less alcohol so it doesn't act harshly.
Pour the alcohol into a bowl, and then soak for a bit. A little time goes a long way in cleaning it.
Boil Your Gold
Boiling water can be a great way to clean your gold chains. It takes 1,948 degrees to melt gold, so don't worry about your stovetop damaging it. Instead, you simply want to bring water to a boil and then pour the water all over the gold plating. When you do this, it should clean any buildup or dirt off it.
Also, avoid putting the gold chain at the bottom of the pot, mainly if it's made from cheaper materials. Exposure to hot metals may end up damaging it.
Soap And Water
This technique is similar to the first, but without the baking soda. Instead, mix some warm water with a few drops of dish soap and let your gold jewelry soak for a little bit. Sometimes, the best way to clean gold jewelry is through the most straightforward means, making this method preferred if you don't have much in your home.
Peroxide Solution
This method is similar to the alcohol method. However, if you have hydrogen peroxide in your house, you can soak the gold jewelry in peroxide for a bit. You can even add a bit of baking soda to clean it. What makes peroxide solution also great is that, unlike alcohol, it's an excellent way to clean fake jewelry.
Toothpaste
Yes, you can clean your gold chain with toothpaste. This method works well if you need to spot clean. Put toothpaste on your soft-bristled toothbrush like you usually would, then clean gently. You can also put the toothpaste on a clean cloth. Toothpaste is one of those mildly abrasive chemicals that can clean gold jewelry without scratching it or causing additional damage. For that, we say that it's worth trying. However, if you have delicate jewelry, you may want to avoid this technique, as it can scratch.
Polishing
When you clean your gold chains using your preferred method, you can polish them through the same process. Rinse it with water, dry it with a regular soft cloth, and then use a polishing cloth to give it that extra sheen. Be sure to polish every part of the gold chain with your soft cloth to ensure it's shiny.
Hazards To Avoid When You Clean Gold Jewelry
There are several mistakes you can make when cleaning gold jewelry. Let's look at some of them.
Never clean a gold chain in the shower. Showers consist of hard water, which may damage the jewelry over time. You want to clean gold jewelry separately without any hard water or bristles that could damage it.

Before you wash it, know what your gold chain is made from. A pure gold chain will have different requirements than a gold chain made from cheaper materials, so keep that in mind.

Never use bleach or lemon juice. Lemon juice is acidic, while bleach is exceptionally harsh. Both of these should be avoided by you for less harsh chemicals.

In addition, you want to use dish soap made from simple ingredients if possible. Avoid soap made from unknown ingredients, as this may cause damage to your jewelry. This particularly applies to a gold chain made from cheaper materials.

Avoid using a stiff cloth to clean gold jewelry. Instead, use a soft cloth to clean your gold chain. These cloths are intended for jewelry and can help you avoid any damage.

Remember, less is more. You don't need to soak your gold chain for too long, mainly if you're using harsh chemicals. Instead, soak until it's clean.
Do DIY Methods Work For Gold Jewelry?
Yes! Many DIY solutions can work for gold jewelry. That said, you want to clean it carefully and investigate what your jewelry is made from. There are cases where you could damage your gold chain if it's cheaper. We recommend starting with organic soap and water, as this is the least intrusive way to clean a gold chain.
How To Identify Pure Gold
Some gold has karat marks, telling you how many karats it is. For example, if it says 24K, then it's pure gold. Anything less and it can be mixed with other metals.
Another way you can identify pure gold is to use a magnet. Pure gold is not magnetic, while fake gold may stick to a magnet.
You can also try the water test. Place a gold chain in water; if it sinks, it's pure gold. Fake gold tends to float.
Another way you can test your gold-plated chains is through vinegar. A drop of vinegar can cause fake gold to change its color. However, pure gold will not do this.
When in doubt, talk to a jewelry expert, who can help you identify what type of gold you have.
Caring For Your Gold Jewelry Properly
Be sure to store your gold jewelry in a fabric-lined box or a velvet pouch to avoid damaging it. In addition, clean your jewelry every week to maintain its sheen.
One thing to remember when caring for your jewelry is to keep it away from sunlight. Too much sun can damage it depending on what it's made from. So instead, store it in a dark, cool, dry place.
Caring for your jewelry also involves keeping it away from chemically treated surfaces such as wood. Doing so will help you avoid any tarnishing and stains.
How you care for your jewelry can also depend on what type of jewelry you have. Speak to a jewelry consultant or contact an expert for more information. We want you to have clean, shiny jewelry for a long while, so contact us if you have any questions.