How Are Gold Chains Measured?
Fri, Oct 28, 2022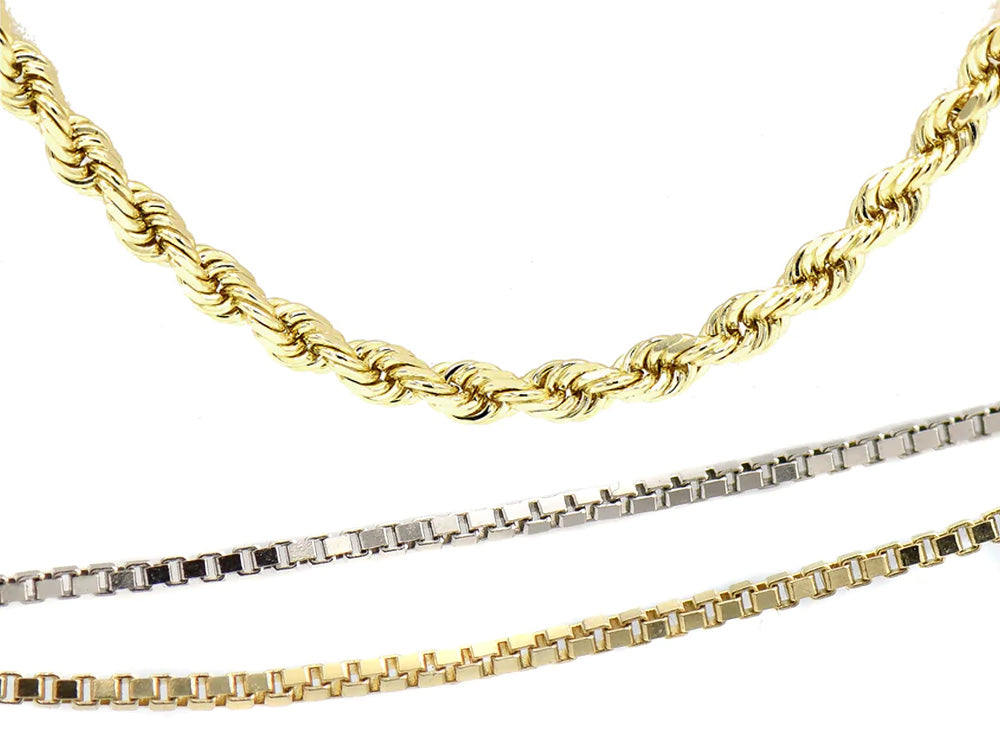 When shopping for a gold chain, one consideration you need to make is the necklace length. If your necklace is too short or long, that can be a problem. This post will examine how necklace lengths are measured and how you can get the right length.
Do You Measure Necklace Length Open Or Closed?
In other words, do you close the necklace on the clasp and measure it, or do you open it and lay it on the ground like a snake? The answer is that you open it. Next, place the chain on a flat surface and measure it using a ruler or tape measure. This way, you can determine the necklace chain length through centimeters or inches.
Do You Include The Clasp When Measuring A Necklace?
Yes. You should add the clasp when measuring necklace lengths. Forgetting it may be problematic once you put it on your neck.
Learning Standard Sizes
Standard necklace lengths, also known as a princess length for women, can help you determine if the necklace is right for you.
Standard Necklace Lengths For Women
For women's necklaces, the princess length is around 18 inches or 45 centimeters. This length is versatile, helping you look your best no matter what day. The standard size will sit above your neckline if you wear lower-cut clothing.
If you're a larger or taller woman, you can also use the matinee length, which is 22 inches or 55 centimeters.
Standard Necklace Lengths For Men
For a man, the standard necklace length is 20 inches or about 51 centimeters. For a man, the right necklace length will usually sit on his collarbone. If you're a bigger or smaller man, be sure to size the necklace up or down.
Ultimately, the proper size is determined by your neck size. Later, we will discuss how you can measure your neck properly to ensure you wear the correct chain size.
Additional Considerations
Of course, your ideal necklace length is also determined by your needs and situations. So let's look at some considerations you may have.
Collar Length Necklace 
This necklace, usually around 13 inches or 33 centimeters, is ideal if you want a secure chain. It works well for formal occasions as well. However, you may not like this around your neck if you're sensitive.
Choker 
This length is up to 16 inches or 41 centimeters. What people like about the choker is that it's versatile for many different occasions. You've seen women dress fancy with a choker, and you've seen them flirty and casual. Like the collar, however, some might not like how tight it is around your neck, even if it's not as tight.
Princess 
The princess is the standard necklace length we've already discussed. It goes up to 18 inches or 46 centimeters. As the name entails, you can wear it when you want to look like a princess at a ball. However, princess lengths also work well for a more casual day.
Matinee 
This length goes up to 24 inches or 61 centimeters. This is the desired length for people looking a little more casual. However, this works well for business attire, too. No matter what your needs are, we guarantee this will look good around your neck.
Opera 
This necklace length goes up to 36 inches or 91 centimeters. Just like the name entails, this necklace size works excellent if you want to look formal at an opera or another event.
Rope
Finally, we have the rope, which goes up to 51 inches or 131 centimeters. This necklace length works well if you're trying to make a statement or want to manipulate its shape to suit your needs. We love the rope style, but it can be an investment.
Thinking About the Pendant 
Besides figuring out which of these standard chain lengths work well for you, you may want to consider if you need a pendant on it or not. Longer, thicker chains can hold a charm well, while shorter chains work for a more miniature trinket. No matter what you choose, be sure that the pendant fits whichever necklace length you desire.
Measure Your Neck Circumference
Measuring your neck size can give you an idea of what necklace length you should choose. First, grab some measuring tape. After you do so, then measure your neck. How you measure it can depend on your sex.
Female: Start below your larynx and stay perpendicular to your neck's long axis. Keep your shoulders down, don't hunch, and look straight ahead. When you measure around the neck, round it up to the next half inch to avoid the necklace being too tight or loose.
Male: Measure the same way, but avoid putting the measuring tape above the Adam's Apple. Keep the tape as horizontal as possible, and avoid using shoulder or neck muscles. When you're done measuring, you must round up to the nearest half an inch.
Measuring The Right Necklace Length For You
Choosing the right necklace can be done by measuring your neck. After getting your neck measurements, look for a chain 2-4 inches more than your neck measurement.
This rule can allow you to get a necklace that isn't too tight. Not only that, but with many chains being adjustable, you can ensure that it's to your desired tightness. On the other hand, some people may want a necklace that sags a little, which is why your necklace length can help you determine what's appropriate for your situation.
Once again, you can measure the length of a necklace by unclasping it and measuring the size through a tape measure after placing it on a flat surface. In addition, most stores will tell you how long the necklace length is, meaning you can take the guesswork out of it.
We can help you find the right necklace for you, and we can even help you find the right necklace depending on your face shape and other needs. Contact us to learn more about finding the proper chain for you.